PROFESSIONAL COURSES
Job-related German course B2 – 400 units
Course duration: 12.10.22-16.02.23, Mon – Fri 09:30 to 13:30, classroom teaching
Course duration: 17.10.22-23.02.23, Mon – Fri 14:00 to 18:00, classroom teaching
Course duration: 12.12.22-17.05.23, Mon – Fri 09:30 to 12:45, virtual classes
Job-related German course B2 – 500 units
Course duration: 14.11.22-17.04.23, Mon – Fri 09:30 to 13:30, classroom teaching
Job-related German course C1 – 400 units
Course duration: 12.10.22-16.03.23 , Mon – Fri 09:30-12:45, virtual classes.
If, due to the pandemic, classes cannot take place as face-to-face classes, the courses will take place in the virtual classroom.
Registration for the courses is possible from four weeks before the start of the course. The placement tests are held on Wednesdays at 14:30.
We look forward to you!
Costs:
free of charge for non-employed persons with a certificate of entitlement
€ 2.32 per TU for employees with a taxable income of more than € 20,000 (or € 40,000 for joint assessment).
If you pass the final exam, a 50% refund is possible.
Travel expenses can be applied for if necessary.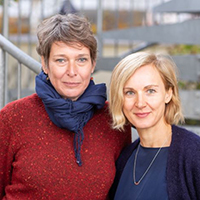 Martine and Ulli
Customer advisors
KLARTEXT e.V.
Augustenstrasse 77
80333 Munich
Tel: +49 89 540 46 98-20
Book a telephone appointment or register directly online
The language school for German, work and culture in Munich