Our work-related German courses convey both general and work-related German at B2 and C1 level. For courses with 400 or 500 teaching units, you can choose between morning or afternoon courses. Our work-related evening courses consist of 300 teaching units. Additional job-related topics include:
Understand information at consultation appointments with the job centre
Understand job advertisements and extract information from them
Conduct job interviews
Communication at work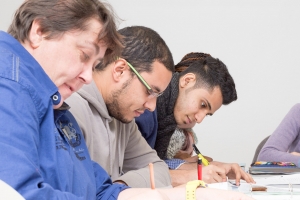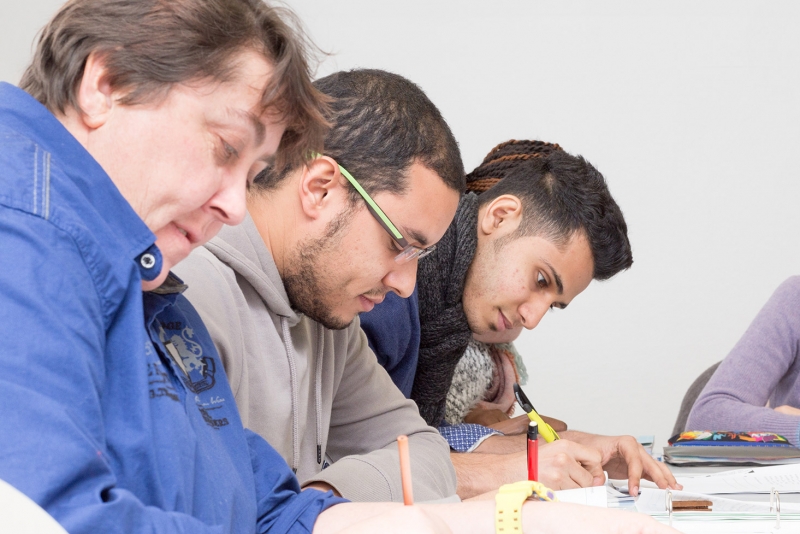 We also offer work-related German courses online or partially virtually. Online lessons take place in the form of a video conference and are supplemented by a learning platform, on which the teacher and participants can do paperless homework and tests and communicate with each other. The form of teaching can alternate as face-to-face and online classes (hybrid lessons).
If you do not have the technical equipment for hybrid or online lessons, please feel free to contact us. We will look for a solution with you!
These courses are funded non-employed persons via the job centre (Agentur für Arbeit or Jobcenter) by the Federal Office for Migration and Refugees issuing an eligibility to participate. Solid B1 or B2 knowledge is required.
For employed persons with a taxable income of more than €20,000 (or €40,000 in the case of joint assessment) the teaching unit costs €2.34, depending on approval by the job centre (Agentur für Arbeit or Jobcenter). If you pass the final exam, a 50% refund is possible.
The travel costs can be requested if necessary.
Our work-related German courses take place either in Munich-Maxvorstadt or as an online course.