Registration for funded courses
Ffor registering for our sponsored Integration courses , job-related German courses and Literacy courses we need important documents, which we would be happy to share with you a personal conversation check. It is important that you bring the required certificate of eligibility, your ID and your last language certificate (if you have one) with you to your first appointment at school. After a placement test or after submitting your latest language certificate, we will fill out your registration with you and will be your contact throughout your school days with us.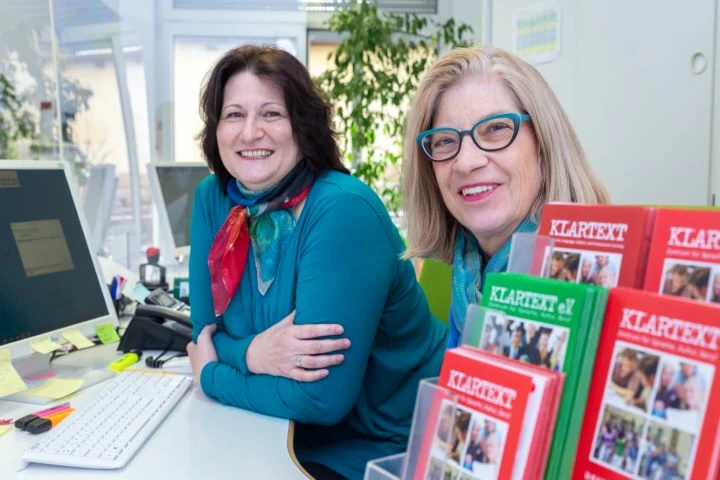 Registration for company courses or direct payer courses
If you can't get public funding, the key is whether you come from a KLARTEXT partner company or on your own initiative. If you come from a partner company, we need confirmation from your company that they will cover the costs of your course. If you come as a direct payer, you do not need to submit any documents. We will be happy to advise you in both cases in person at our customer reception or online. Together with you, we will find the course that suits you: an individual course or group course with face-to-face, online or hybrid lessons or an online course with face-to-face phases (blended learning). You can then register at our school. Your advisor remains your contact person throughout your entire time at our school.
Our reception is open during the following office hours:
Advice-classification-registration
Monday to Friday: 9:30 a.m. to 12:30 p.m.
Tuesday and Thursday: 5:00 p.m. to 7:00 p.m.
and by appointment
You can also call us at 089-540 46 98-20 at the following telephone times:
Telephone information
Monday to Friday: 9:30 a.m. to 12:30 p.m.
Tuesday and Thursday: 5:00 p.m. – 7:00 p.m.
You can also email us at: info@klartext-zentrum.de .
Please arrange a phone appointment with us using our appointment calendar !
We are happy to answer general inquiries at info@klartext-zentrum.de or by phone at 089-540 46 98-20.